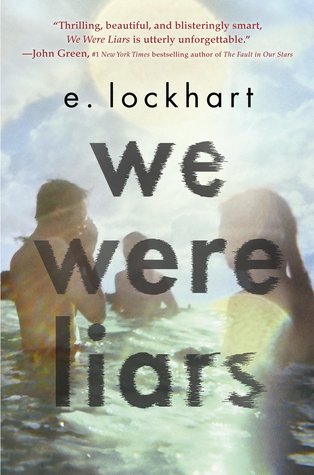 Title:
We Were Liars
Author:
E. Lockhart
Release Date: May 13th, 2014
Publisher: Delacorte Press
Page Count: 240
Source: ARC from ALA
(I received this book from the publisher in exchange for an honest
review. No favors were exchanged, my opinions are my own.)
First Reaction:
O.O >.> OH.
Barnes & Noble | Amazon | IndieBound | Book Depository
A beautiful and distinguished family.
A private island.
A brilliant, damaged girl; a passionate, political boy.
A group of four friends—the Liars—whose friendship turns destructive.
A revolution. An accident. A secret.
Lies upon lies.
True love.
The truth.

We Were Liars is a modern, sophisticated suspense novel from National Book Award finalist and Printz Award honoree E. Lockhart.

Read it.
And if anyone asks you how it ends, just LIE.

[Summary Source: Goodreads]
THE REVIEW
I'm not sure what I'm supposed to say about this book.
1. I can't really summarize it because you're not supposed to, really.
2. Everyone and their mom has already read it and have said all of the amazing things about it.
3. If you haven't read it yet, it's probably because of the hype machine and, in that case, this review probably isn't what you're looking for.
But let's go at this anyway.
Cady is our narrator and she's incredibly unreliable. She doesn't remember so much of what this story's really about, so her memories and flashbacks and encounters all sort of dance around what it is she can't remember - the big thing that's happened that seems to have changed everything about her and her family. And it must be a pretty big thing because her family is one of those ultra-rich, owns a small island families. So the book is really about Cady putting together the pieces, both fro memory and from the little things the her family and her group of friends, the Liars, let slip.

Because we can't trust Cady, this book is kind of a twist. It's almost like she's trying to solve this mystery but we can't solve it with her. We have to get to know her and use her as a piece of evidence as we try to solve the crime alongside her. (Alternatively, you don't have to solve the crime with her, you can just ride it out. That's good too.)

Aside from the twisty-ness of the structure of the book itself, the facts of the book are pretty gasp-worthy. The plot is so complicated and intricate that you'll want to read this one twice so you can read it once without knowing and the second time with knowing and being able to see all of the little bread crumbs E. Lockhart left you in the build up. And if I'm telling you to read a book twice, you know it must be worth it.

I think the best part of this book is the writing. It's sparse yet lyrical. Light yet entirely meaningful. It's like E. Lockhart put each and every word through an extreme vetting process and only picked them once they showed they were up to the task of telling this story.

Among many other positive attributes, this book is a really excellent commentary on so many things that I can't even get into because I refuse to spoil anything. But read it and hit me up so we can talk about it, yeah?

My Recommendation:
If you love a good, twisty contemporary with a little more, this is the book for you. If you're not into it, don't give into the hype machine just to feel current. It's definitely not a book for everyone, but it's a book for me.