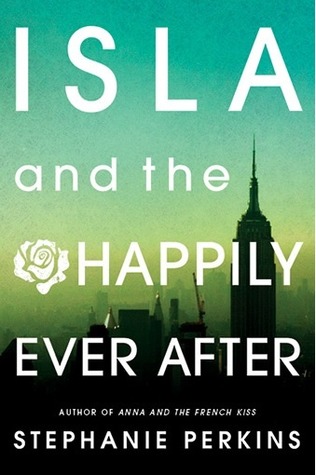 Title:
Isla and the Happily Ever After
(Anna and the French Kiss #3)
Author:
Stephanie Perkins
Release Date:
August 14th, 2014
Publisher:
Dutton
Page Count:
339
Source:
ARC from Work
First Reaction:
I had many small problems but THE END WAS SO DELICIOUS IT DOESN'T EVEN MATTER. REJOICE FRIENDS.
Barnes & Noble | Amazon | IndieBound | Book Depository
From the glittering streets of Manhattan to the moonlit rooftops of Paris, falling in love is easy for hopeless dreamer Isla and introspective artist Josh. But as they begin their senior year in France, Isla and Josh are quickly forced to confront the heartbreaking reality that happily-ever-afters aren't always forever.

Their romantic journey is skillfully intertwined with those of beloved couples Anna and Étienne and Lola and Cricket, whose paths are destined to collide in a sweeping finale certain to please fans old and new.

[Summary Source: Goodreads]
THE REVIEW
Isla is the third of her kind. She is the third Stephanie Perkins protagonist to take us on a wild ride of emotion, romance, drama, and all that other excellent coming of age stuff. But Isla's different from
Anna
and
Lola
because we
know
her. She first showed her face in Anna's story, as a girl a year younger but in the same boarding school in Paris. Anna defended her. Isla had a crush on Josh, one of Anna's friends. She's a character we've been waiting to know more about for years, which is why this book is the series ender - the everything, really.
Isla's journey starts in New York City, during the summer. An oral surgeon has just robbed her of her wisdom teeth and provided many drugs, leading Isla to a cafe where she finds Josh, the object of her affection (for the last three years or so). She makes a fool of herself and then time kind of jumps forward to Paris and the school year, where the everything
really
happens.
And that's when I realized my main issue with this book. The pacing was kind of weird. One second we're here, then we're there. Isla and Josh kind of just slip into this blissful love situation, which makes sense for Isla because she's been obsessed with Josh for so long but makes less sense for Josh. And once they're in love, far too much of the beginning of this book is just them being precious and in love. I caught myself thinking, "Wait, where's the drama?" I knew it had to be coming and it had to be big and I was pretty sure I knew what it would entail, so it hit the feels less when it happened.
Then there's the pacing of Isla's insecurities about her relationship with Josh. Obviously there are foundational issues here (hi, she loved him/the idea of him for
years
before they got together) but Isla kind of just tumbled down the rabbit hole of problems with them way too fast and without the setup I was looking for.
My final issue with this book is slightly more personal: I don't like the way this book describes the places Isla finds herself. I don't
feel
like I'm in New York or Paris or Barcelona. To me, it's a lot of landmarks and streets are being prattled off to force me to picture a setting, but I don't feel like I'm there and I honestly just feel like the book is showing off. Which stinks because I love foreign country books that make me want to travel (see Jennifer E. Smith and Gayle Forman books for what I look for in wanderlust-y books).
But, here's the thing: Despite my issues with this book, I still think it's a beautiful, emotional tale about a girl who isn't at all sure of herself and has no idea what to do with herself. A lot of Isla's struggle throughout is what
she
wants to do. She's always just floated along and did whatever. But, at a certain point, she had to put her foot down and say: "No. I am Isla, hear me roar, this is
my
life and these are
my
choices." And I like that. It's a lot of what a teenage faces in senior year - a lot of what
I
faced in senior year, and I think Isla runs at this issue at a way I haven't seen done before.
I also thought the romance, all of its issues aside, was simultaneously complicated and the simplest thing in the world. Isla and Josh belong together (whether for the final happily ever after of
marriage and babies and growing old together
or for the happily ever after of
right now
, it doesn't matter so much) but there's so much in their way - themselves, their baggage, their situations... nothing's easy when you're a teen and you think the world's going to end if you can't be in the exact place you want to be when you want to be there, and I think Stephanie Perkins captures that perfectly.
This book also happens to have a lovely Easter Egg in it for fans of the first two books (because Stephanie Perkins would never leave you wanting for Anna and Lola in the finale). Obvs no spoilers ever, but it was so lovely it made me forget all of my misgivings about the pacing and the plot. It made me think: "Oh, you guys are going to
love
this entire book it is just what we've been waiting for."
TL;DR:
I had my issues with this book, just as I did with Lola. But, despite the book's pacing issues and Isla's rough patch in the middle of the book (as I didn't quite latch on to her descent into depression), I still think the character growth here was lovely. And I truly believe fans of this series will be more than happy with the way it ends. Oh,
BTW
if you haven't read this series yet and you're a big Contemporary YA fan, you're doing yourself a disservice.