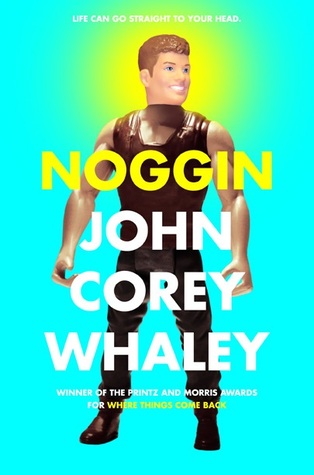 Title:
Noggin
Author:
John Corey Whaley
Release Date:
April 8th, 2014
Publisher:
Atheneum Books for Young Readers
Page Count:
342
Source:
ARC from ALA
(I received this book from the publisher in exchange for an honest
review. No favors were exchanged, my opinions are my own.)
First Reaction:
Well
that
was emotionally intense.
Barnes & Noble
|
Amazon
|
IndieBound
|
Book Depository
Listen — Travis Coates was alive once and then he wasn't.

Now he's alive again.

Simple as that.

The in between part is still a little fuzzy, but he can tell you that, at some point or another, his head got chopped off and shoved into a freezer in Denver, Colorado. Five years later, it was reattached to some other guy's body, and well, here he is. Despite all logic, he's still 16 and everything and everyone around him has changed. That includes his bedroom, his parents, his best friend, and his girlfriend. Or maybe she's not his girlfriend anymore? That's a bit fuzzy too.

Looks like if the new Travis and the old Travis are ever going to find a way to exist together, then there are going to be a few more scars. Oh well, you only live twice.

[Summary Source: Goodreads]
THE REVIEW
Travis knows his battle with cancer is over, so when he's offered the chance to have his head cryogenically frozen and possibly reattached to a non-cancer ridden body, he takes it. When he wakes up, however, it's not 100 years into the future like he thought it might be. Instead, the world has only moved forward 5 years and everyone and everything he knew is still alive and kicking - except they've all grieved and moved past Travis's passing. Now that Travis is back, he has to figure out how he fits into everyone's new lives and it's really not that easy, especially since his parents are keeping things from him, his best friend is living a lie, and his girlfriend is now engaged to someone else.
This is the contemporary sci-fi book, which is good because I wouldn't have picked it up otherwise. I'm all for sci-fi, don't get me wrong, but head-cutting-off sci-fi is not for me. So once I was assured that John Corey Whaley doesn't touch the science
at all
, I was on board. I wanted to know about this experience Travis goes through. The one where he goes to sleep and wakes up 5 years behind and younger than everyone he loves.
As I read, however, the unrealistic concept of taking a five year nap and waking up the exact same age as you were when you went to sleep with everyone around you five years older became a little more plausible. Ultimately this book is a story about
coping
. It's an extreme, sure, but Travis is the king of coping in this story. He has to deal with
all of the changes
listed above (the parents, best friend, girl friend, five years later but still 16, etc.) and the fact that his head was cut off and he
now has a new body
. So he's basically coping with every crazy thing you could possibly think to find in a YA novel.
Basically: this book is tough, meaningful, serious, soft, compassionate, absurd and everything else in between all of these words. It's really everything.
I'd say my only complaint here is:
Travis gets a little too hung up on his ex-girlfriend.
Yes, I get it, they were in love, she was his best friend as well... but the last third of the book kind of becomes all about her in almost a...
creepy
way that I didn't love. I wanted more about Travis dealing with the changes internally and more conversations with the one other guy who'd gone through the same procedure and lived. I wanted piecing everything back together and less fixation on the romance. Because, even though Travis's ex is a big piece of the past he's holding on to (and maybe even the keystone of it all), there still more I wish I could have gotten out of him and his story beyond her and her personal struggles. Not to mention, I could totally understand her side of it and she wasn't even a POV in the story.
Although, that being said, I don't think any in Travis's life really took the time to understand his side of it and that really stunk and made me very sad (in the sort of way that has me in awe of John Corey Whaley's skills to jerk my feels around - many thumbs up for that, to be sure.)
The long and short of it?
Plot:
Sci-fi, yet contemporary and wholly original.
World Building:
Sci-fi neglected - for the best, as per my reading preferences.
Character Development:
Travis is a marvel. Who's a little too obsessed with his ex. But still a marvel.
Prose:
Wonderful
.
Would I Recommend This Book?:
This book is for contemporary lovers who like a bit of
strange
. If that speaks to you, pick up Noggin
immediately
.
Agree or disagree about the romance in this book? Perhaps agree to disagree? Maybe you want to know more about the exact amounts of sci-fi in this one. Share all thoughts in the comments!