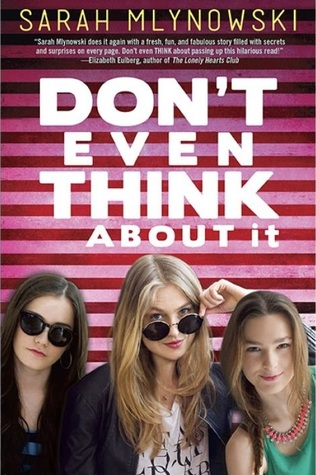 Title:
Don't Even Think About It
(Don't Even Think About It #1)
Author:
Sarah Mlynowski
Release Date:
March 11th, 2014
Publisher:
Delacorte Press
Page Count:
336
Source:
ARC from ALA
(I received this book from the publisher in exchange for an honest
review. No favors were exchanged, my opinions are my own.)
First Reaction:
Well that was CUTE.
Barnes & Noble | Amazon | IndieBound | Book Depository
We weren't always like this. We used to be average New York City high school sophomores. Until our homeroom went for flu shots. We were prepared for some side effects. Maybe a headache. Maybe a sore arm. We definitely didn't expect to get telepathic powers. But suddenly we could hear what everyone was thinking. Our friends. Our parents. Our crushes. Now we all know that Tess is in love with her best friend, Teddy. That Mackenzie cheated on Cooper. That, um, Nurse Carmichael used to be a stripper.

Since we've kept our freakish skill a secret, we can sit next to the class brainiac and ace our tests. We can dump our boyfriends right before they dump us. We know what our friends really think of our jeans, our breath, our new bangs. We always know what's coming. Some of us will thrive. Some of us will crack. None of us will ever be the same.

So stop obsessing about your ex. We're always listening.

[Summary Source: Goodreads]
THE REVIEW
When a homeroom full of teens receive the wrong batch of flu shots, they all acquire the ability to read people's minds. For anyone who's ever really considered what that would be like (or has maybe read
Twilight
), you'll know it's not the most pleasant thing in the world, especially when you're not the only person who can read minds. In fact, there are ~20 other people who can read minds and they all know you can too. So it basically becomes a circle of everyone talking in each other's minds and being up in each other's business. Which stinks a lot, a lot because being in the same homeroom doesn't mean you're friends, y'know? And, honestly? For those who are friends - or worse, dating - things are even worse.
Now you have these kids who know too much about each other, about their other non-mind-reading friends and their parents and it's awful. And there's drama. And there's desperation and sadness. But there's also foresight that comes with it. There's the shy girl who's shy because she's afraid of people's responses to her actions but her new skill helps her feel more comfortable. There are also important facts found in the drama, especially when one girl is found out to be quite the liar and another boy learns what's
really
happening with his parents (although this is also very sad, many hugs for said boy). And, somehow, because Sarah Mlynowski is Sarah Mlynowski, there is humor in all of this.
Basically,
Don't Even Think About It
is one twisted, hilarious web. Sure, this book is trying to cover too many characters. Like, maybe we didn't need 20 kids to end up with these powers - perhaps 10, or even just the three pictured on the cover would suffice. And maybe the situation got a little absurd/over-the-top at times. But I that was part of the entertainment.
Ultimately, I don't think this was the best or most moving book I've ever read. It doesn't have the
best
flow and the cover
is
kind of misleading because this book is not just about three girls with mind reading skills (although I suppose some of the characters with the ability to mind read get more focus than others). But it's still a cute, fun read. And there are explanations for the mind reading, which is more than I expected, so that's a nice twist that'll lead us into book two (which I will be reading for the cuteness factor for sure).
The long and short of it?
Plot:
Cute, cute, cute with a dash of the wacky.
World Building:
The mind-reading sets in and, surprise! there's a reason for it! It's more than I expected from this book and I can definitely dig it.
Character Development:
It was kinda hard to get a feel for any of the characters since there were so many of them and the attention was spread kind of thin, but some of them definitely stood out for me.
Prose:
Totally addictive.
Would I Recommend This Book?:
If you're looking for a cute, quick read, this is for you. If you're looking for something a bit deeper with meaning and lots of feels, maybe not so much.
Were the many characters too off-putting for you? Perhaps you loved all of the characters everything else with your whole, entire heart. Whatever the case, let me know in the comments below!