Once again,
Lisa
and I are a bit late with our posts (me a bit later than Lisa, but who's even counting, not me). I think we're just getting more and more comfortable with each other and our partnership. Like, neither of us feel guilty or care when we're behind. And whenever we write each other emails or start gchatting, there are like 400 other things to discuss then then all of the Epic Recs business gets pushed off. Basically, we're those girls who spend more time gabbing than getting the group project done and THERE IS NOTHING WRONG WITH THAT WE'RE THE BEST EPIC REC PARTNERS EVER.
But I guess we still have to post the reviews for the June books if we ever want to put up the July stuff, so, this month, while Lisa was reading THIS IS WHAT HAPPY LOOKS LIKE by Jennifer E. Smith, I read...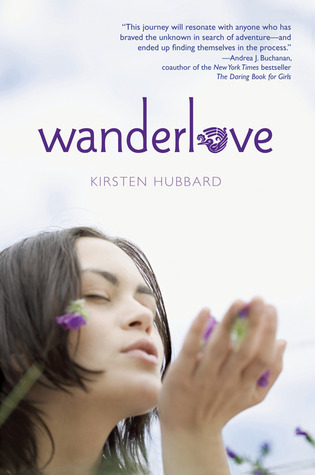 Title:
Wanderlove
Author:
Kirsten Hubbard
Release Date:
March 13th, 2012
Publisher:
Delacorte Books for Young Readers
Page Count:
338
Source:
Purchased
First Reaction:
Uh, this was fab but could I get another 20 pages? And also, can I pack my suitcase and go somewhere now?
Barnes & Noble | Amazon | IndieBound | Book Depository
It all begins with a stupid question:

Are you a Global Vagabond?

No, but 18-year-old Bria Sandoval wants to be. In a quest for independence, her neglected art, and no-strings-attached hookups, she signs up for a guided tour of Central America—the wrong one. Middle-aged tourists with fanny packs are hardly the key to self-rediscovery. When Bria meets Rowan, devoted backpacker and dive instructor, and his outspokenly humanitarian sister Starling, she seizes the chance to ditch her group and join them off the beaten path.

Bria's a good girl trying to go bad. Rowan's a bad boy trying to stay good. As they travel across a panorama of Mayan villages, remote Belizean islands, and hostels plagued with jungle beasties, they discover what they've got in common: both seek to leave behind the old versions of themselves. And the secret to escaping the past, Rowan's found, is to keep moving forward.

But Bria comes to realize she can't run forever, no matter what Rowan says. If she ever wants the courage to fall for someone worthwhile, she has to start looking back.

Kirsten Hubbard lends her artistry to this ultimate backpacker novel, weaving her drawings into the text. Her career as a travel writer and her experiences as a real-life vagabond backpacking Central America are deeply seeded in this inspiring story.

[Summary Source: Goodreads]
Bria was supposed to go to travel with her friends the summer after their senior year of high school and go to art school with her boyfriend in the fall. But when her boyfriend breaks up with her, Bria loses her artistic mojo, and her best friends decide a trip is a bad idea, Bria decides she's not going to just stay home but go out and see the world anyway. Which is how she ends up on a trip to South America with the Global Vagabonds. The problem now? The Global Vagabonds aren't quite what Bria thought they would be and now she's stuck all over again - until she meets Starling and her slightly wayward brother, Rowan. Under their influence (and her own spontaneous life choices), Bria ditches the Vagabonds and does her best to find herself while backpacking with new friends through a foreign country.
Lisa didn't know this when she recommended this book to me, but I love to travel. Love, love, love. I'm mostly a Europe girl (I love the romance, history, art, and architecture bits best) though, so I was kinda not reading this book a little intentionally. I can't say I've been converted to South American wanderlust yet, but this book definitely made me curious. It also painted an incredibly vivid, partially delightful, partially terrifying picture of what it's like over there and I can't help but love that.
Bria's got problems. Her ex is a pretty big dodo who did a number on her. This trip is her salvation, but she doesn't even know it. I loved watching her go from not understanding how everything was hitting her to processing how important this trip was and how every irresponsible decision she made was the exact right decision. I also love Rowan, who has his own set of bad-life-choices problems. His are more things that he did to himself than things that happened to him (as in Bria's case) but they're still equally compelling and you gotta love that.
There are a lot of trust issues in this book. Rowan doesn't trust Bria, Bria doesn't trust Rowan... it's kind of a mess until the very end, and it's all pretty sneaky (and incredibly delicate) if you ask me. There's also sneakiness from Bria. She's more of a despondent rule follower before this trip but after? Well, she's left the rules so far behind her in this book that I actually feel bad for her poor parents.
Rowan and Bria have this unsteady relationship. They're both so full of misunderstandings and mistrust that they almost don't make it work. But then Bria, after taking 300 or so pages to regain her footing, takes this leap and realizes what it means to simultaneously regain control and dive into the unknown and lets the swoons really happen. I only wish this book was just a bit longer so I could see the results of her big triumph over her own issues. (But that's mostly a personal thing, so, basically, long live the swoons.)
Lisa's questions for me for WANDERLOVE:
1. Of all the great characters in this book, which one was your favorite and why?
Rowan. And not because he's the swoony boy because there's so much in him that I want to unpack. And, also, well, I'd like to go diving with him that sounds amazing, please and thanks.
2. Of all the places that Bria visited in the book, which among them do you want to go the very most?
Oooooh. Well, like I said I'm more of a Europe girl. But there's this market Bria goes to in the book, just as Rowan and Starling really start butting into her travels. I want to go there. (I love a good street market.)

3. Bria learns a lot about herself through the course of the book. What advice would you throw in there for her?
"Boys are stupid, throw rocks at them." - Oh, no, that's not helpful? Well, I'd say: "Call your parents, dodo." - STILL not helpful? The truth is, I think Bria figured out a lot of what she needed to figure out in this book, so I don't know if I have anything else for her right now. But she's reminded me of a lot of really important things I could stand to remember a bit better.
TADA. Lisa and I are amazing at this. Need more proof? Check out what homegirl has to say about THIS IS WHAT HAPPY LOOKS LIKE by Jennifer E. Smith.
Do you have any other travel books I should read? Or maybe you haven't read this one yet and you still need to take a trip to South America with Bria. Tell me all about it in the comments below!