The May edition of The Queen Bee's Knees is for Picture Books.
If you're looking for the April edition, which was the first edition and happened to be about YA books, click HERE.
For those who need a reminder of what The Queen Bee's Knees is, it's a feature I do to highlight the books I love in a very short, concise way. I include my bookseller/elevator/10 second pitch, which will hopefully give you a good idea if it's the book for you (or for the wee ones in your life, since this is the picture book edition) and something a bit longer that explains a bit more. Basically, The Queen Bee's Knees is my way of telling you which books I think are The Bees Knees without/in addition to writing full reviews.
But before we get started, I'd like to note, I didn't pick any of the BIG picture books. So, no Classics (read: Where the Wild Things Are, The Very Hungry Caterpillar, Paddington, Corduroy, Clifford...) or BIG Modern Picture Book authors illustrators (read: Jon Klassen, Oliver Jeffers, Mo Willems, Erin and Phillip Stead...). And it's not because I don't love these books, but because I don't think you need me to tell you what's popular. Instead, I'd like to recommend some that you might not have heard of or missed the last time you went shopping. (PS: if you haven't picked up any books by the aforementioned "big" authors for the tots in your life, you SHOULD, ASAP.)
Okay. Got it all down? Good, because here's The Queen Bee's Knees May Picture Book Edition!
FREDDIE & GINGERSNAP by Vincent X. Kirsch
Series?: More Freddie & Gingersnap stories to come!
Text Heavy: Medium.
In Short: "So, y'know Fred Astaire and Ginger Rogers? This is them in dragon/dinosaur form. (They're what influenced the book.)"
But actually, this book is adorable and the illustrations are so fluid and lovely. Not too many words, so it's good for kids missing patience as well as anyone who appreciates lovely stories about friendship.
WHERE'S MOMMY? by Beverly Donofrio, Barbara McClintock
Series?:
This is actually a companion to
Mary and the Mouse, the Mouse and Mary
, but I like this one better.
Text Heavy?:
No.
In Short:
"You can be friends with the mice who live in your house. No, really."
And if you don't like that message
, this is a really cute book about having a friend you assume your parents wouldn't like and then finding out you're absolutely wrong in the most adorable way.
HERMAN AND ROSIE by Gus Gordon
Series?: Nope.
Text Heavy?: Yes.
In Short: "Herman and Rosie are lonely New Yorkers who find each other and come together to make the perfect pair. I will never not love this."
There's also music. Herman and Rosie happen to be lonely musicians. Not only do they come together and become the perfect companions, they also become a duo no one can match. The writing is also beautiful and lovely. A perfect bedtime story.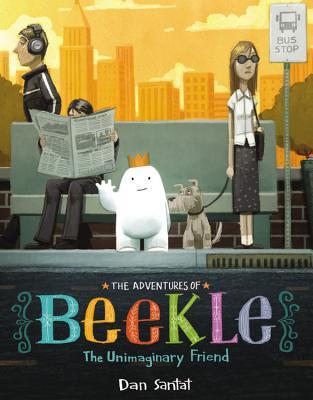 BEEKLE by Dan Santat
Series:
No.
Text Heavy?:
Yes.
In Short:
"What if there's a land of imaginary friends where imaginary friends live until humans imagine them?"
That's a lot of "imaginary"
right there, but, basically, this book is perfect for anyone who's ever had an imaginary friend. Or just a good friend. Or likes stories of hope and loveliness. Or likes cute things. Do you like cute things? I like cute things. (I mean, please, do you see Beekle waving to you from the cover? Please.)
I AM OTTER by Sam Garton
Series?: I don't think so? - This is Sam Garton's debut.
Text Heavy?: Yes.
In Short: "Otter Keeper goes to work on Mondays, so Otter's left to his own devices..."
Otter is the most adorable of all the adorables. His story explores the idea of a kid missing their parent when said parent goes to work. It also shows a lot of a silly Otter getting into trouble and blaming it on stuffed animals. Very cute, fantastic illustrations.
TEA PARTY RULES by Ame Dyckman and K.G. Campbell
Series?:
I wish.
Text Heavy?:
About a sentence per page.
In Short:
"A real bear takes the place of a teddy bear at a tea party so he can have cookies but has to learn all of the rules first."
This is probably my favorite picture book
of the moment. I read it all the time. Bear is adorable, the little girl is adorable, the cookies are the perfect motive, and all of the rules (and the twist with the rules at the end are genius. Favorites shelf forever.
So these are my current picture book favorites. Do you love them too? Maybe you have others you think I should read. Perhaps you need other/more recommendations. Let me know all of the things in the comments below!