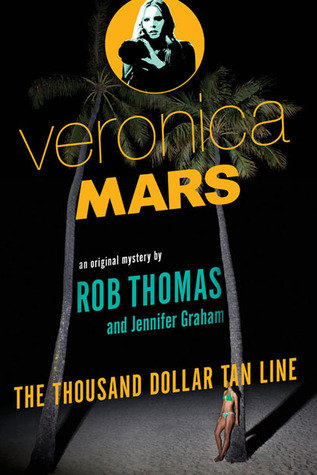 Title:
The Thousand Dollar Tan Line
(Veronica Mars #1)
Author:
Rob Thomas & Jennifer Graham
Release Date:
March 25th, 2014

Publisher:
Vintage

Page Count:
324
Source:
Purchased both the book and the audiobook.
First Reaction:
THE VERY BEST EVER THANK THE WORLD FOR THE RESURGENCE OF VERONICA MARS.
From Rob Thomas, the creator of the television series and movie phenomenon Veronica Mars, comes the first book in a thrilling mystery series that picks up where the feature film left off.

Ten years after graduating from high school in Neptune, California, Veronica Mars is back in the land of sun, sand, crime, and corruption. She's traded in her law degree for her old private investigating license, struggling to keep Mars Investigations afloat on the scant cash earned by catching cheating spouses until she can score her first big case.

Now it's spring break, and college students descend on Neptune, transforming the beaches and boardwalks into a frenzied, week-long rave. When a girl disappears from a party, Veronica is called in to investigate. But this is no simple missing person's case; the house the girl vanished from belongs to a man with serious criminal ties, and soon Veronica is plunged into a dangerous underworld of drugs and organized crime. And when a major break in the investigation has a shocking connection to Veronica's past, the case hits closer to home than she ever imagined.

[Summary Source: Amazon]
THE REVIEW
VERONICA IS BACK. IN BOOK FORM. SHE IS KICKING BUTT AND SOLVING CRIMES. I HOPE YOU ARE ALL READY FOR THE SASSITUDE.
Let's break this down:
Okay, you guys. When I found out this book was happening I pretty much lost it. Of course, I'd love to see more TV episodes or movies or whatever - because Veronica belongs on a screen, y'know? And if Logan's right next to her and they're spending that screen time being adorable, that's even more perfect. But I could have never guessed how much I would love Veronica in both book and audiobook form.
THE BOOK
The book is amazing for so many reasons. The first few have to do with the amazingness that is Veronica Mars. I mean, there's the noir, the mystery, the social struggle within Neptune, every last one of the characters from Veronica to Dan Lamb... I mean, I could go on for years about how much I love the foundations of this show and how well that transferred into the book. It's all still there. The drama and the angst... y'know, just because it's not lazily watching my computer screen doesn't mean it's not still perfect, like everything else associated with this show.
Another important element that goes to the amazingness of this book is how description translated over to the page. Normally, things are just on screen and you see it and that it. But the book has to describe the scenery and the characters and make you imagine it. And I do. Oh, how I do. Not to mention, going backwards and describing a real person... part of me was afraid it wouldn't work, but it sososo did. Also, seeing the world from inside Veronica's head was also pretty intense. In the show you get a voice over, but you're really with her in this book. Basically, the book is like one long Veronica voice over... but better.
All in all, this book kills it. Especially with the twists. It picks up just where it should post-movie (although Logan is off and away being my personal hero *cries*) and really brings all kinds of joy into my life in a whole new format.
THE AUDIO
Kristen Bell does the audio, which means it's amazing, clearly. But the narrator choice is actually genius because it takes the whole "this book is like one long Veronica voice over... but better" idea to the max. You actually get to
hear the voice over.
And if that's not enough for you, hello, Kristen Bell has to speak the words other characters speak, not just Veronica. The shifts in tone and accent are so perfect. I never knew it was something I could want so much, but I did and I'm so happy.
OVERALL
This was everything I could have ever wanted it to be. The plot fit with your standard Veronica Mars plot of:
1. There's a mystery.
2. Veronica's hired to solve it.
3. The mystery expands (in the book's case to include a second victim).
4. HELLO HUGE TWIST AND INTRODUCTION OF UNWANTED THING.
5. Veronica almost dies trying to solve the case.
6. Veronica figures out that everyone in Neptune is a giant shyster and nothing is as it seems.
7. Veronica unveils everything and shows how everyone is a giant, lying shyster, and why no one should ever trust anyone.
8. And there are some sad conversations with Logan + witty banter with Mac, Wallace, & Keith + Dick being hilarious thrown in.
Now, despite this strange predictability of a Veronica Mars episode/movie/book, I still love it so much. Because it's the
"what?" and the "TWISTS" not the order of events that make all things Veronica Mars worth your time. Which is probably enough of a recommendation, don't you think?
The long and short of it?
Plot:
PERFECT.
World Building:
TEN OUT OF TEN.
Character Development:
BRILLIANT.
Prose:
SO HARDBOILED DETECTIVE NOVEL I CANNOT.
Would I Recommend This Book?:
If you're not already a Veronica Mars fan you probably shouldn't read this one (and you should probably have a good reason why you're still here and not gearing up to watch the greatest show of all time). But if you are a Veronica Mars fan (AS YOU SHOULD BE), you're gonna love it.
So, are you a Veronica Mars fan? (Remember, this is a trick question and the only acceptable answer is yes.)